Ancient people in Colombia worshiped a man named Bochica who came to their land and showed the natives how to plant crops, make clothing, and build houses.
Legends of Bochica are still alive among the Colombian Indians.
Legend Of Bochica
Bochica was also called Nemqueteva, Sadigua or Xué, which means the Sun.
Bochica had white skin, white hair, and a long white beard. He came riding to the country on an unknown animal and taught moral values and religious traditions.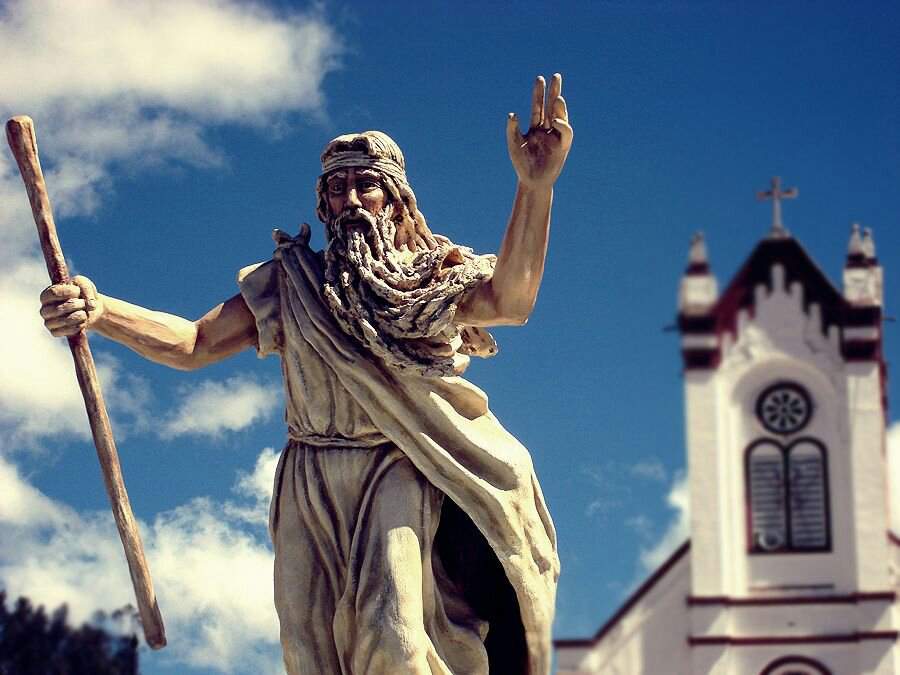 Photo: Monument dedicated to Bochica in Cuitiva, Boyacá, Colombia
He told the natives they should worship one supreme God – Chiminigagua and explained he had been sent by him with the message that people should love each other and refrain from wrongdoing.
The Chibcha Indians of Columbia still recall the god Bochica came at a time of chaos. Bochica was a gentle being who preached against war, worship of idols, and he was capable of miraculously healing the sick by touch. Just like Jesus Christ, Bochica was also capable of restoring sight to the blind.
Mysterious Stone Structures And Artifacts In Colombia
Leaving myths and legends aside, let us now look at some remarkable stone structures, artifacts and statues. We should not forget that many of these stone structures and statues were made in the honor of the Colombian gods.
Ciudad Perdida is situated atop a mountain in the Sierra Nevada de Santa Marta, a UNESCO-inscribed Biosphere Reserve.
Hidden in the middle of the jungle, archaeologists are still trying to uncover ancient secrets of Ciudad Perdida, the Lost City.
It is a place that has remained unknown to most of the outside world for centuries and even today, very few people are aware of its existence. Ciudad Perdida,Spanish for "Lost City," is one of Colombia's most spectacular cultural heritage sites.
The "Lost City " was inhabited by the Tayrona people until the end of the 16th century and tucked away within the lush jungles of the Sierra Nevada de Santa Marta not far from the Colombian coastline. Ciudad Perdida, is made up of hundreds of stone terraces and rings, which archaeologists believe were used as foundations for temples, dwellings and plazas.
Not far from San Agustín there is an archaeological Park with a museum containing ceramics, artifacts and information about the local culture. The park features about 130 well-preserved statues that are depicting sacred animals, men, women and unknown beings wearing masks. Similar statues have been discovered in other parts of Latin America.
Ancient people in Colombia shared, just like other ancient cultures all across the world the same fascination with gold.
In ancient Colombia gold was used to fashion some of the most visually dramatic and sophisticated works of art found anywhere in the Americas before European contact.