08/21/2019
Millionaire and convicted child sex offender Jeffrey Epstein was reportedly provided with more than one thousand underage girls — some as young as 12 — by a French modeling agency, new reports reveal.
One of Epstein's partners, Jean-Luc Brunel, was suspected of procuring minors for his sexual gratification. Bruno opened an international modeling agency called MC2 through which he managed to collect over 1000 teen and pre-teen girls for Epstein.
MC2 was co-founded in 2005 by Brunel, a playboy who tried a run in fashion in the 1970s but found his niche acquiring barely legal girls to join his modeling roster. Brunel claims to have jumpstarted the careers of marquee names like Christy Turlington, Rebecca Romijn, and Jerry Hall.
Two sources familiar with Epstein's finances tell The Daily Beast they believe Epstein dropped as much as $2 million into MC2 to get it started. (Brunel has denied that Epstein funded the agency.) "Jeff put his money up for this guy to get Jeffrey these young girls. That's a front for Jeffrey's securing more and more young girls," one longtime Epstein confidant said.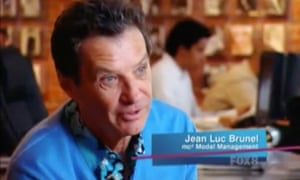 Jean-Luc Brunel
There's also been
reports
that Epstein was closely tied with
Les Wexner
,The owner of the the world renowned modeling agency " Victoria Secret".
Another coinscidence ?
Les Wexner
According to testimony by some ofJean-Luc  Bruno's former employees, he would obtain visas for the girls to enter the United States and would even join Epstein on journeys around the world.
JPost reports: The Jewish millionaire was arrested in July in an airport in New Jersey after leaving Paris where he stayed for three weeks. Epstein stayed in Paris 11 times throughout the last year before his arrest, reports claim.
Epstein even owned an apartment in the heart of Paris, where many underage women were seen alongside celebrities, whose names were banned from advertising.
One of the key testimonies in the case against Epstein claims that she was working for Bruno's modeling agency when she was raped by him and the owner of a hotel chain in southern France.
Four years ago, a crisis broke out between the criminal friends and Bruno sued Epstein for libel.
Related Articles:
Leaked Video Shows Prince Andrew at Jeffrey Epstein NY Mansion Along With Prime Minister's Daughter
Qanon: Epstein's Temple Connection to Strange Leaked Video Of Underage Girls In Bathhouse