A satanic statue has been erected in a government building in Illinois to mark the beginning of Christmas. Illinois is considered one of the most Democratic states in the United States.
The demonic four-foot sculpture depicts a snake coiled around an outstretched arm holding an apple. It's the first Satanic display sponsored by the Chicago chapter of the Temple of Satan.
BBC News reports: The state government said the temple had the same right as other religious groups to have a display.
"Under the Constitution, the First Amendment, people have a right to express their feelings, their thoughts," Dave Druker, spokesman for the Illinois secretary of state, told the State Journal-Register. "This recognises that."
The move has been criticised on social media by Illinois Family Action, an anti-abortion pressure group.
Past decorations in the statehouse rotunda, in the state capital Springfield, have included a "Festivus" pole – a reference to a fictional holiday which was the subject of an episode of the sitcom Seinfeld.
What is the Satanic Temple?
Founded in 2012 in Salem, Massachusetts, the Temple of Satan describes itself as a non-theistic group that aims to "encourage benevolence and empathy among all people".
( Remember Satanists Turn Everything  Upside-Down, so  reverse everything they say to find the true meaning of their words, in this case reverse the words "benevolence and empathy among all people" and you have the true hidden message behind it. )
This is just a way for them to attract people who are vulnerable like teenargers who are under alot of "satanic propaganda" with so much series and films promoting satanism as cool and good. Never trust a snake.
They say  they use satanic imagery to promote the separation of church and state and to campaign for "practical common sense and justice". ( Again Reverse everything they say )
It has 15 official chapterhouses in the US, the biggest of which is based in Michigan.
The temple was started by Harvard graduate Doug Mesner, known as "Lucien Greaves", and an individual known as "Malcolm Jerry".
He also want to get schools to offer children the choice to follow a "after school satanic teaching program" in wich members of the satanic temple will teach childrens about satanism
All of this under the guise  of "legal rights of religious organizations to operate clubs in public schools."
Quote From the satanic temple: " The Satanic Temple (TST) has announced that this coming school year (2016) will find their organization operating in elementary schools across the nation where they will be offering their new After School Satan Club program to students. While the presence of a religious organization in public schools will no doubt be shocking to some, evangelical litigants — primarily the Child Evangelism Fellowship (CEF) represented by lawyers from the Liberty Counsel — have solidly established the legal rights of religious organizations to operate clubs in public schools. According to the CEF website, "[…] the United States Supreme Court ruled that a public school which allows use of its facilities to secular groups may not discriminate against religious groups." And now that the CEF has established its Bible-based Good News Clubs across the nation, TST are eager to offer their own after school clubs, which will focus upon "critical reasoning, independent-thinking, fun, and freethought."
THIS IS PURE MADNESS! REMEMBER, SATANISTS WILL TRY EVERYTHING TO NORMALIZE THEIR SICK AND TWISTED PRACTICES. SATANISM IS WRONG, SATANISM IS EVERYTHING GOD WARNED US ABOUT, SATANISM IS DOING EVERYTHING THAT IS IN OPPOSITION TO GOD AND THE DIVINE NATURAL ORDER OF THINGS.
DONT  FALL FOR THESE FALLEN ANGELS AND THEIR LIES ! THEY WANT TO NORMALIZE PEDOPHILIA AND BEASTIALITY TOO! BASICLY EVERYTHING THEY DO "COVERTLY" THEY WANT TO BE ABLE TO DO PUBLICLY WITHOUT BEING THROWN IN JAIL, AND AND THEY ALSO WANT AS MANY PEOPLE TO FALL INTO THEIR LIES AND TO WORSHIP SATAN THUS MAKING AS MANY HUMANS AS POSSIBLE SEPARATED FROM GOD!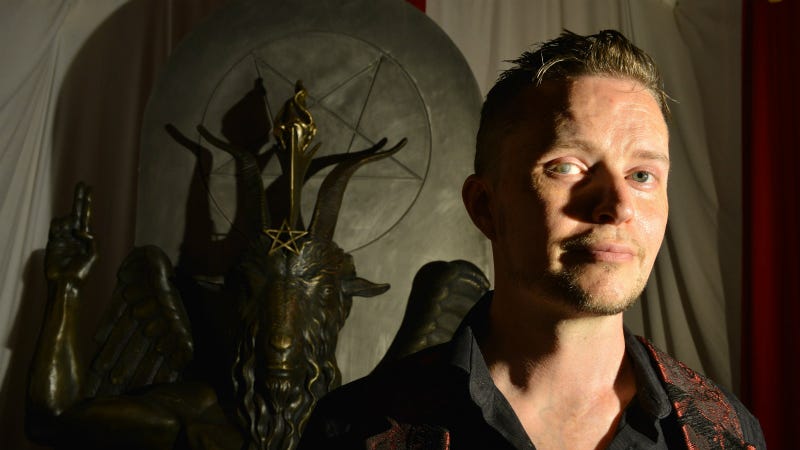 (above picture) Lucien Greaves the founder of the satanic temple. ( This man is really creepy)
In a speech, Mr Greaves said the group had had "thousands" of membership applications since 2016.
Earlier this year, members of a Satanic Temple placed a statue of Baphomet –a goat-like deity associated with Satanism  outside Arkansas' statehouse during a First Amendment rally.
The group also settled a $50m copyright lawsuit against Netflix and Warner Bros last month over a statue of Baphomet used in the TV series The Chilling Adventures of Sabrina.
(above) Statue Featured in the TV series "The Chilling Adventures of Sabrina."
Related Articles: