Many of you might not be familiar with the term "Snowflake", what does it mean to be a snowflake ?
Being a snowflake is a term used to describe a person that is easily offended and who can't handle any form of mental or physical "pressure".
Basicly a snowflake best decribes any person born after 1999, the millenial generation.
But rest assured, there's also snowflakes who we born way before the year  2000..We can them liberals.
So how an entire generation was emasculated and turned into snowflakes ?
The rise of political correctness promoted by leftist liberal parties such as the democrats in the Usa, have given life to a whole generation of people braiwashed by the media teaching them to be deeply offended by anyone that challenges the status Quo.
Let's take a n exemple that is pretty obvious these days, President Trump wants to build a wall to secure the borders against illegal aliens & the rise of criminality associated with Migrants.
Now, the liberal media such as CNN & msnbc along democrat figures such as nancy pelosi are all screaming like hyenas claiming that anyone who supports Trump and his plans to build a wall are racists far right extremists.
If you support Trump and the buiding of a wall and you start talking about this subject with people who have liberal views,  you will have a hard time reasoning them as they'v already been programmed to label you as a racist as soon as you mention the word Trump or Wall.
This exemple applies to pretty  much every subject that has been already established by the mainstream media.
Subjects like feminism, global warming, abortion….LGBT…
This generation is being bombarded by propaganda to the point where some of the victims of this propaganda don't even realize they's auto-censoring themselves and others by fear of challenging the status quo and by being ignorant and close minded to any other views.
The agenda behing this politically correct ( P.C ) agenda is to keep people from questionning official narratives and keep them fighting among themselves.
What better way for our governments to censore free speech than by brainwashing millions of people into being easily offended and to refuse views that are "out of the box".
How can we grow our balls back ?
So you must be asking yourself how can we change this ? How can we fight back against snowflakes who propably will be offended by this article ?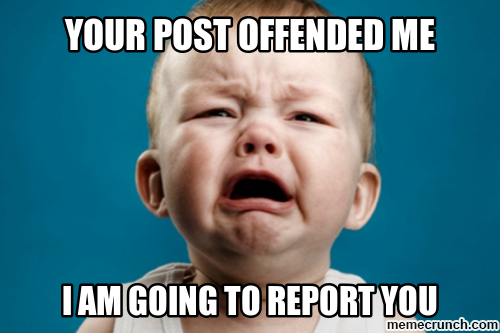 The answer is pretty simple, look, i know how hard it is to keep your cool talking to a snowflake, but we have to keep our mouths open and keep on speeking our minds, no matter what other people think.
Even If you are the only one who thinks that way, be proud, say what you believe in , never back down.
Because your willingness to say outloud what other people may want to say but don't because they'r afraid of being persecuted by snowflakes is what sets the exemple for other people to voice their opinion.
This generation will not grow their balls back unless we show them the way,  so next time you find yourself speaking to a Snowflake, remember you might help them into openning their minds and maybe grow their nuts back.