02/03/2022
Is it really a victory for us that after almost two years the covidian tyranny are beginning to ease? No, it is not a victory for us, it is just a change of tactics of the plutocracy.
THE DAMAGE COUNT
Nearly two years of peaceful demonstrations have not succeeded in either decreasing the covidian control measures or preventing mass inoculation. If demonstrations such as those in Canada and Europe are now allowed, it is only to give vent to accumulated frustration and to give the unvaccinated a false sense of victory.
Now what we are facing is the tragedy that half of the planet is genetically modified humans (GMO), and the other half (for the moment) are pure blood humans, in this scenario humanity is still in danger of extinction, and the satanic techno-communist agenda continues its march without any problem.
The consequences of a year of nanotechnology jabs are already evident: irreversible neurological damage, immunodeficiency, all kinds of heart conditions and sudden deaths. This is nothing compared to what lies ahead in the coming months and years (see SPARS pandemic document, the vid about graphene and Marburg Virus, and report on automatic defibrillators), 5G already has turn on constant and intermittent all over the planet (the antennas were installed during the lockdowns), and the effects of the inoculations will be even more evident in the survivors of the experiment, now bipedal GMO.
In the meantime, the biometric identification system, digital currencies, the universal basic income and the chinese social credit system continue and will continue to be imposed without any resistance from a world population tortured and indoctrinated for two years.
And if all this were not in itself a bleak picture, we find ourselves in what in my opinion is the most serious and fundamental problem, that of the purity of blood.
BLOOD OBSESSION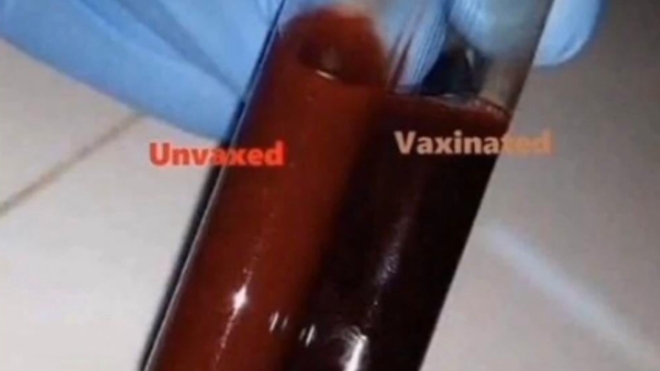 It is no coincidence or chance that the transhumanist agenda with its Covid-19 operation has targeted human blood as its sole objective, first through lack of oxygenation by muzzles, and then through nasal tests and inoculations.
The techno-satanists could have installed the communist transhumanist agenda during a long, smooth and painless process, by means of subcutaneous or brain chips disguised as pragmatic avant garde fashion, and the chinese social credit system would have been disguised as egalitarian democracy, being installed by means of small, gradual and constant regulations.
But it was not so, in these two years there was only torture and cynical sadism towards the whole of humanity by the satanic transhumanist elite, and a systematic attack on the purity of human blood. So it is logical to ask, who benefits from so much pain, and who benefits from the corruption of human blood?
Evidently the only beneficiaries are the demiurge, his hosts and his worshippers on this planet. The demiurge has always claimed suffering and blood through ritual sacrifices throughout human history.
The corruption of blood through nanotechnology is part of the transhumanist demiurgic agenda that despises the human race, just listen to the promoters of this agenda as the jew Yuval Noah Harari and the probably jew Geordie Rose.
This apparent relaxation of the covidian regime seeks among other things the hybrid bastardization between pure-blooded humans and GMO bipeds. As happens in after wars, the biological instinct to reproduce is pressing in the face of the unconscious need to repair the dead, and the unconscious psycho-biological need too, to make eros prevail over thanatos.
HYBRIDIZATION BETWEEN PURE-BLOODED HUMANS & INOCULATED HUMANS
It is logical that after two years of global incarceration and bombardment of psychopathic propaganda, injecting sick fear by hearing the word death more than a hundred times a day, all people of reproductive age (especially teenagers) start fucking like rabbits without taking the precaution of make a bluetooth scanning to their partner to verify if them are a pure blood human or if them are GMO biped, or maybe they don't even care if their partner is a GMO biped or not.
As every farmer knows, an organic seed can be contaminated with GMO seeds, and once contaminated all its offspring will have some or several characteristics of GMO seeds, i.e. it is not and will not be an organic seed.
Therefore, it is expected that not only mutant babies will be born from the inoculated ones, but that a hybrid generation will be born from the mixture of pure-blooded humans and GMO bipeds, children that will be genetically modified at birth.
THE NEW NORMAL
Covid-19 has only entered a new phase in which people will get used to living in this new hellish dystopian regime, for that they must relax restrictions and keep the so-called dissidents busy with psy-ops or granting them permission to protest and make them feel a false sense of victory.
Compulsory "vaccinations" and media terrorism will continue, sometimes it will be a made-up war, sometimes it will be an obviously provoked "natural" catastrophe, or sometimes it will be the supposed appearance of a new virus that will only seek to cover up the aberrant consequences of nanotechnology inoculation on humans.
THE IMPORTANCE OF PURE BLOOD
Pure blood is our most precious good for three reasons.
The first is that healthy blood guarantees long life and health.
The second is by genetic memory. Physical, mental and psychological characteristics are inherited from generation to generation, not only from parents to children, but characteristics of grandparents or great-grandparents can be manifested in their grandchildren or great-grandchildren through parental legacy, without the parents themselves having developed such characteristics.
The third is by ancestral and transcendental memory. Blood possesses a particular energy (energy that the demiurge likes to drink) linked not only to genetic memory but also to transcendental and spiritual memory.
In the blood is kept the memory of the truth about our stay in this hell called planet Earth, in the blood is kept the memory of the transcendent and eternal signs and symbols, in the ancestral memory are kept the ways of activating these truths, symbols and signs; and is also kept in this energy that only the blood carries, the memory of the experiences that we have to perform and that will lead us to the liberation not only individual but collective (collective means here: only among our equals).
In the ancestral memory of blood is preserved the memory of those who are the enemies of humanity and the memory that recognizes true human beings.
THE FINAL BATTLE HAS JUST BEGUN
Right now the preservation of blood purity is a top priority.
Since last year, blood banks do not accept blood from inoculated onesbecause it is useless, it is coagulated and dead blood, the inoculated blood no longer has life or a defense system that makes it useful in transfusions. How much is a liter of pure blood worth at this time?
We cannot let any needle be inserted in our body for any reason, we cannot donate blood, and we cannot receive blood from strangers from a blood bank, not even blood from acquaintances if the transfusion is done in a hospital and the blood is lost from sight. We cannot allow all this in our bodies if we wish to preserve the purity of blood and ancestral memory.
Now apparently inoculated blood is not accepted in blood banks, but in 15 or 20 years this will not be so clear when the hybrid generation of inoculated and pureblood humans reaches adolescence. And a hybrid blood is as dead in relation to ancestral memory as a directly inoculated blood.
Purity of blood not only guarantees health for ourselves and our offspring, purity of blood guarantees the preservation of our spiritual memory, this memory is our only guide to the immanent truth, to the actions to take in this war and to the identification of the true enemy.
The ancestral memory preserved in the purity of the blood is also the memory towards the transcendent truth, towards the identification of our equals, and the memory that will lead us towards liberation or towards a better return.
Here's why human blood is being attacked by the golems, the enemies of humanity, they seek to destroy our ancestral memory, and plunge all transcendent life in this corner of the galaxy into an eternal satanic demiurgic darkness.
What the golems do not know is that by destroying all traces of transcendent humans, they are heading towards their own self-destruction.
Our purity of blood is our most precious good and our greatest treasure, it must be defended with our lives, not only for our personal well being, but for the collective good of our peers and descendants.
PS. I intentionally use the term GMO bipeds when referring to those inoculated, because the condition of HUMAN BEING is an earned condition, and just as being human in nature is earned, such condition can also be lost.
RELATED VIDEO
ANTHONY PATCH PREDICTED SCAMDEMIC, MRNA VACCINE AND HUMAN HYBRID
RELATED ARTICLES